Orange Frida Cape Coast – Party in Ghana. Even if it sounds like an event from the Netherlands, this here is regularly held in Ghana. Great mood, lots of beats and music, live acts and all are dancing, in orange. Just right to find out how to party in Ghana. Are you interested? Then don't miss this article.
It all started when I was invited by one of Perrys friends. Perry had conjured up a delicious meal for us in the evening. There were fried chicken legs on a typical Ghanaian salad variation with rice and stew. That evening, I also wrote the first article for my blog, yaaay. The next morning I sat on the porch and enjoyed the rising sun above the capital Accra. For breakfast I had a typical Ghanian meal: Gari mixed with milk, sugar and peanuts.
As I sat there, watching the rising sun, one of the housekeepers joined me. A sympathetic young man who would like to become a footballer in future. Originally he is from Cape Coast. So he told me that they would soon celebrate Orange Friday in Cape Coast.
Orange Friday Cape Coast – What and when is it?
It is part of a traditional festival called Fetu Afahye. By the way this is spoken "Fetu Afeshe". Personally I never heard about Fetu Afahye, nor about the Orange Friday Cape Coast. However, this should change soon. Since he had raved about it, I promised myself not to miss the Orange Friday Cape Coast. So immediately I pulled out my calendar to enter the date.
If you would like to experience the Orange Friday Cape Coast live, it has always been set up on the first Friday of September. This special friday is also called Orange Friday Street Carnival. As the name suggests, this is a huge orange-colored street parade in Cape Coasts. People dance to loud beats. In the evening after the parade, the crowd spread over various events. Like almost everywhere in Ghana there are only a few whites taking place. So if you want to be part of authentic Ghanaian party life, the Orange Friday is just right.
Orange Friday Cape Coast – Where does the name come from?
Yes, where does the name "Orange Friday Carnival" actually come from? I think it is clear to everyone that it takes place on a Friday. I was not aware of the fact that one is celebrating a carnival in Africa. Young imaginative people probably imported the idea of a carnival 2013 from abroad to West Africa. But why the color orange? After some research, I found out that the initiator and organizer of the Orange Friday Cape Coast is a radio station. More specifically, this station is called Cape 93.3 FM. Now we are getting closer to the answer. If you look at the station's logo, you can see that the color orange represents the station itself.
Will the Orange Friday Cape Coast continue to take place?
By the way, what happens when tradition meets modernity? It was far from certain that the event would take place in 2016 as well. The Orange Friday has been held since 2013 during the Fetu Afahye Festival. So it is seen as a part of it. The ancient Fetu Afahye, on the other hand, is planned by a committee controlled by the Oguaa traditional council. But this council seemed to have enough of the orange crowed. It had announced at a press conference that a carnival during the Fetu Afahye festival could only take place with prior approval. In order to obtain permission, the organizer had to submit a previous plan.
Interestingly, this was exactly what another organizer already had done and received approval. So the "Orange Friday Carnival" should have been replaced with the "Cape Coast Carnival". According to my information, this was probably done in court. I could not find an official statement in the media about the outcome of the whole drama. But since I was there, I can certainly say that Orange Friday Cape Coast took place. But we will have to find out if this also applies to 2017 and the subsequent years.
Orange Friday Cape Coast – How to get there?
Although Perry is from Ghana, he did not know the event so far. That surprised me at first. Especially that the Orange Friday Cape Coast has now assumed extreme proportions and have become known correspondingly. So I decided to take him to the Orange Friday Cape Coast.
On that special Friday we went off Madina in the morning to Kaneshi Market in Accra. From Kaneshi, there are connections to Cape Coast. With the TroTro it took about 2 hours driving time and cost around 17 Ghana Cedis. This is about 3 – 4 euros.
But before we could start we had to equip ourselves accordingly. What do you really need for an Orange Friday? Exactly, you probably already suspect orange dresses and accessories. Therefore, we bought a beautiful orange t-shirt and some bracelets in Kaneshi at the street market. Equipped like that we could finally start. Already in TroTro to Cape Coast we met two young men in orange.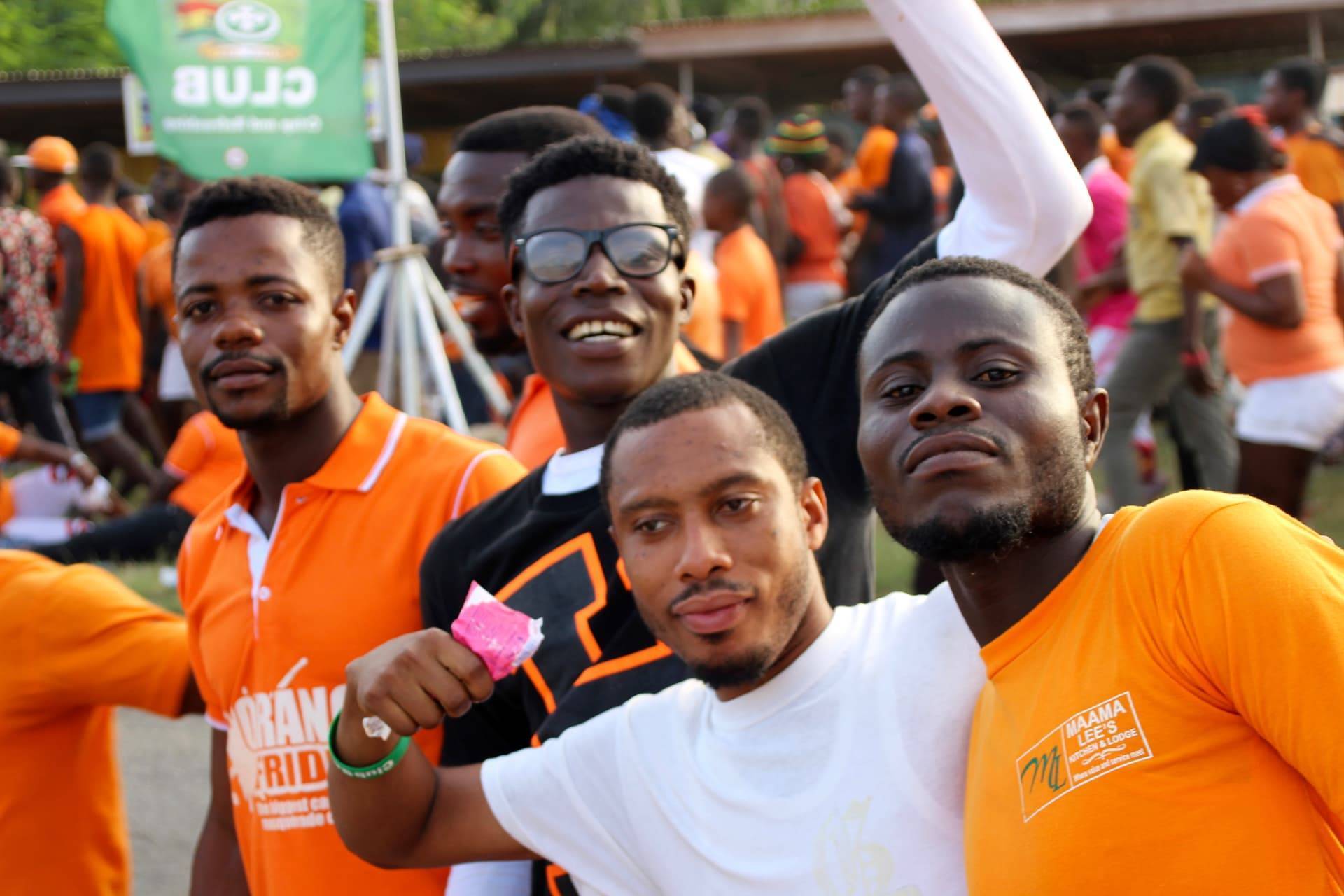 Tip: You should either bring your orange t-shirt from home or buy it outside of Cape Coast. In Cape Coast itself, it will most likely cost more. The shirt I bought at the Kaneshi Market in Accra was 20 Cedis. This is about 4 – 5 euros.
Orange Friday Cape Coast – Our accomodation
Unfortunately, we did not care about an accommodation in advance. According to the online portal booking.com, all accommodations were already booked out. Hoping for the best we drove to Cape Coast anyway. In fact, fortune was good to us.
As usually in Ghana, to get to know others is quite easy. So Perry had met a very nice lady from Cape Coast in our Trotro. Both had been talking the whole trip. As luck would have it we ended up having a place to stay. After we arrived in Cape Coast, she took us home with her. When we visited the offered room, we realized surprisingly that there was living actually an older gentleman. Very spontaneously he moved to a friend only to give us his room. Wow – that's what I call helpful.
Tip: If you want to book a room, you should do it in advance. Not only a day before.
Orange Friday Cape Coast – the parade
Finally, after we had a look at the room and freshened us up, we went to the parade. To be honest, we had no idea where this was going to take place. But fortunately the taxi driver knew more. He brought us to a large road crossing in the middle of Cape Coast. When we arrived at 4pm the parade was already in full swing.
There was a huge orange crowd danced out in the direction of Jukwa Road. Just like the motto "be in the middle, instead of just being there" we pounced inside the crowed. You could see everything from young to old and from gray to orange. Even if orange was the dominant color, you could see many other colors too. In between, people with colorful masks or rollerblades. In addition to the walking crowed, there had been trucks with large trailers where people danced on it. In the midst of the orange drift, you could see different live bands playing trumpets to the rhythmic beats. On the roadsides there were also several possibilities to buy food or alcoholic beverages. Of course, we had made use of this.
A completely new drink to me was the Guinness Orijin. I personally would classify it somewhere between fruity and bitter. As I have already described in another article, so-called "Bitters" are famous in Ghana. It is kind of an African herbal schnapps. All kinds of herbs and plants are processed into alcohol. These should not only be very healthy but also increase the libido (sex drive). Guinness has done a very successful business out of that. Although the industrially produced Orijin can hardly be compared with an original African Bitters. By the way, exactly this kind of bitters I have already drunken in the Caribbean.
Slowly, the crowed went further and further towards Chapel Square. Meanwhile, the darkness had caught up with us. As people moved forward ahead, behind our backs it got slowly quieter. We ourselves did not go to Chapel Square. Like many others, we ended the evening in a restaurant with a live music band. The live band played on a stage and in front some visitors already danced. BeckyKay, as the restaurant is called, was exactly at the crossroads where we started. It was really well visited in a nice courtyard which was roofed with a beautiful tent construction. The inner courtyard, with its pavilions and pizza stand, actually reminded me of home. After this evening I felt completely kaput – nevertheless it was a really successful day!
Orange Friday Cape Coast – Facts
Organizer: Cape 93.3 FM
Place: Cape Coast Ghana
Part of Fetu Afahye
When: 1. Friday in September
Start: 11 hours: Ayifua / Eyifua junction
Route: Jukwa Road – Inner Ring Road
End: 18 hours: chapel square
Dresscode: orange
Evening: 20 hours: Concert on the forecourt of Cape 93.3 FM
2013: 30.000 participants
2014: 40.000 participants
2015: 50.000 participants
I have put the facts together in painstaking research work from other online sources. For this information from different sources assumes no liability.
Now it's your turn! Have you been there too? Did you like it? Can you tell me where to celebrate the best after the parade? Or do you have any questions? Then write me about a comment.
Ben – travelcap.de